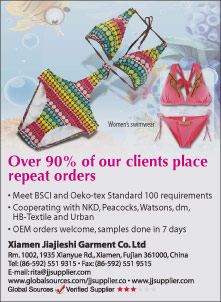 Share:




E-mail

Print

Bookmark
Xiamen Jiajieshi Garment Co. Ltd

Follow me

We're an authorized supplier of Disney

Samples in 7 days | OEM orders welcome

3 Star China (mainland)

Credit Check - Supplier Credit Profile

provides impartial credit and vital business metrics for select suppliers on Global Sources Online. Using the Credit Check reports, buyers can easily compare key indicators and more efficiently manage risk. Suppliers with a Credit Check logo have agreed to allow this information to be reported to help buyers streamline the selection and due-diligence processes.

The supplier information below has been obtained from relevant government agencies in the supplier's country and is subjected to change without prior notice. Credit Check and verification procedures were conducted by Sinotrust, a third-party credit agency.
Read Disclaimer


Registered Address:
Rm.1002 No.1935 Xianyue Rd.
Huli District Xiamen City
Fujian Province China

Incorporation Date:
July 04, 2011
Legal Form:
Limited liability company
Company Status:
Live
Registration Agency:
Xiamen Municipal Administration for Industry and Commerce
Registration Number:
350206200180534
Authorized Capital:
RMB 1,000,000
Paid-Up Capital:
RMB 1,000,000
Legal Representatives:
TANG Shicheng
Import & Export Licences Obtained:
Yes
Business Scope:
Wholesale and retail of garments, shoes, hats and accessories, textile raw materials, knitgoods & textiles, leather products, and sports supplies; import and export of commodities and technologies (no I/E commodity catalogue is attached additionally), but excluding those run by the state's designated companies and those prohibited from being imported and exported by the state. (Operation shall be pursuant to a license where involved)
Business Permit Expiry:
July 03, 2031
Shareholders:
• TANG Shicheng
• HONG Yu
• WU Shuiyuan




Want a more detailed Credit Report on this supplier?



Authenticated and verified by:
Sinotrust


On December 07, 2012

Contact Details




Xiamen Jiajieshi Garment Co. Ltd
Room 1002, No.1935 Xianyue Road
Huli District
Xiamen
Fujian
China 361000
Tel: (86 592) 5519315
Fax: (86 592) 5519515
Mobile: (86) 13400771954


Homepage Address
http://www.globalsources.com/jjsupplier.co


Chat with supplier using:

Key Contact:
Ms Hong, Rita
Sales Manager
Sales Deparment


Mr Hu, Nick
Sales Personnel
Sales Department


Ms Yuan, Joce
Sales Personnel
Sales Department


Supplier and product information updated December 07, 2013.
Verified Business Registration Details
Registered Company: 厦门嘉捷实服饰有限公司
Business Registration Number: 350206200180534
Company Registration Address: 厦门市湖里区仙岳路1935号1002室


* In some jurisdictions, company names and addresses are registered in Chinese only.